A Providence, Rhode Island community group used this as an icebreaker: Group members were split into small groups. Latino members might be paired with English speakers, with each required to learn a phrase in the other's language. At first there was frustration on the part of African-American members at not being able to communicate directly, but this subsided gradually as feelings of mutual support and community grew. Building a multicultural collaboration entails changing the way people think, perceive, and communicate.
There is a difference between recognizing cultural differences and consciously incorporating inclusive and anti-discriminatory attitudes in all aspects of the organization. Embracing cultural differences is not something separate from your issue-oriented work. It is at the core of the group's perspective on issues, possible solutions, and membership and operating procedures.
The organization's structure, leadership, and activities must reflect multiple perspectives, styles, and priorities. Changing how the organization looks and acts is just the first step in the ongoing process of creating a reality that maximizes and celebrates diversity. Collaboration is a process involving organizations working toward a goal they can't reach alone.
The process requires long-term commitment and an understanding that there will be shared risks, responsibilities, and rewards. Successful collaboration must be based on mutual respect, a valuing of difference, trust, a plan, lots of patience, determination to adopt new attitudes and pull in partners not usually involved, and, most of all, a sense of common purpose. Multicultural collaboration adds the challenge of overcoming the communication barriers of different cultures, ethnic heritage, values, traditions, language, history, sense of self, and racial attitudes.
These barriers must be conquered in order for the collaboration to succeed. Participants in an effective multicultural collaboration must have inclusive leadership that understands and strives for diversity, while dealing with problems and conflict along the way. If the focus remains on the common goal and equal power for everyone involved, the collaboration will have a great chance of success. Chapter 8: Respect for Diversity in the "Introduction to Community Psychology" explains cultural humility as an approach to diversity, the dimensions of diversity, the complexity of identity, and important cultural considerations.
Culture Matters is a cross-cultural training workbook developed by the Peace Corps to help new volunteers acquire the knowledge and skills to work successfully and respectfully in other cultures. Publications and web links available. Bonds and boundaries: looking at our communities. DuPraw, M. Working on common cross-cultural communication challenges. AMPU Guide. Anner, J. Working together: Building successful multicultural movements.
Neighborhood Works, 18, Chrislip, D.
Incorporating Birth Culture in Adoptive & Multicultural Families
Collaborative leadership: How citizens and civic leaders can make a difference. Paul, MN: Amherst H. Wilder Foundation. MacArthur Foundation. A review of literature on collaboration: a language for collaboration [Brochure]. Chicago, IL. Gardner, J. On leadership. Chapter 9: Fragmentation and the common good. Gray, B. Collaborating: Finding common ground for multiparty problems. Kaye, G,. From the ground up!
Chapter 2: coalition building: is this really empowerment? Available from Tom Wolff and Associates. Kritek, P. Negotiating at an uneven table. San Francisco: Jossey-Bass.
Washington, DC, Skip to main content. Toggle navigation Navigation. Chapter Chapter 27 Sections Section 1. Healing from the Effects of Internalized Oppression Section 4. Building Culturally Competent Organizations Section 8. Multicultural Collaboration Section 9.
Transforming Conflicts in Diverse Communities Section Building Inclusive Communities. The Tool Box needs your help to remain available. Toggle navigation Chapter Sections. Section 1. Learn how to promote multicultural collaboration.
Culturally inclusive schools and learning environments.
The Battle of Gettysburg: A Guided Tour.
Preserving Chili Peppers!
What is "multicultural collaboration"? Why is multicultural collaboration important? When should you commit to multicultural collaboration? What are some guidelines for multicultural collaboration? How do you build a multicultural collaboration? What is multicultural collaboration? It gets everyone to the table.
Multicultural Education Definition - The Glossary of Education Reform
Because most groups have some community-wide concerns, it's essential to get them to the same table, uneven or not. According to John Gardner, the biggest problem of having many groups in society is the war of the parts against the whole. Though it's odd and self-destructive, in-fighting has increased dramatically in recent years. Becoming more aware of our similarities, along with cultural differences, doesn't have to paralyze or divide us.
Through common interests we can learn to translate "different from me" and "less than me" into "like me in lots of important ways.
Recently Viewed
It makes for more effective communication among groups. Understanding how people communicate is the first step toward understanding and respecting each other. It enriches everyone's life when there is shared knowledge of others' cultures. Different communication styles reflect philosophies and worldviews that are the foundations of cultures. New understanding gives us a broader view of our world and the opportunity to see a mirror image of ourselves.
It takes advantage of "strength in numbers. Because no one group is responsible for a problem, no one group alone can solve it. Competition among groups doesn't aid survival in today's turbulent world. It creates community. As our population becomes more culturally diverse, some cultural groups are experiencing more problems. If we learn to understand and value other cultures and to look at each other as neighbors with similar interests rather than adversaries, we will be more vested in the idea of taking better care of each other.
Caring about our neighbors builds a sense of community and unites us in solving community-wide problems. It leads to a more just society. Multicultural collaboration can build collective capacity to help make things better, and promote the consensus that it's important to do so. This offers a good chance at solving complex problems in an atmosphere of trust, cooperation, and mutual respect. The following are other significant indicators of when you should commit to multicultural collaboration: Those most affected by the problem are not participating in a solution.
This could mean that one group possibly the group in power needs to commit to improving its cultural understanding and appreciation its cultural competence with regard to other groups, in order for those groups to feel welcome. There is more at stake than individual organizations, but competing organizations are at each other's throats and coming to unilateral decisions that hurt themselves and others. There are problems among many diverse groups that one organization can't solve alone or in a short period of time.
There are several groups willing to make a long-term commitment to work for a change in thinking and to establish a common language and effective communication. Several organizations recognize a bad situation that could get worse if nothing is done. There is a desire to identify others involved in the problem and bring them to the table.
Multicultural Partnerships
Everyone at the table will share a vision and be committed to the process of reaching out to new partners, explaining the rationale, and continuing to recruit group members. All parties involved are clear about what they are getting into, see the tasks as meaningful work that will make a difference, and are strong stakeholder groups in the community.
The groups represent every cultural group involved in the problem, are well organized, and are able to speak and act credibly for the groups they represent. The leadership of the process is committed to keeping the focus on the goals, keeping stakeholders at the table through periods of frustration and disagreement, acknowledging small successes along the way, and enforcing the group's agreed-upon rules.
Consider these guidelines as you confront the communication barriers: Learn from generalizations about other cultures and races, but don't use those generalizations to stereotype, write off, or oversimplify your ideas about another person. The best use of a generalization is to add it to your storehouse of knowledge, so that you better understand and appreciate other interesting, multi-faceted human beings. Practice, practice, practice. That's the first rule because it's in the doing that we actually get better at cross-cultural communication.
Don't assume that there is one right way to communicate. Keep questioning your assumptions about the "right way" to communicate.
Multicultural Partnerships: Involve All Families
Multicultural Partnerships: Involve All Families
Multicultural Partnerships: Involve All Families
Multicultural Partnerships: Involve All Families
Multicultural Partnerships: Involve All Families
Multicultural Partnerships: Involve All Families
Multicultural Partnerships: Involve All Families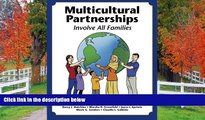 Multicultural Partnerships: Involve All Families
Multicultural Partnerships: Involve All Families
---
Copyright 2019 - All Right Reserved
---